A glimpse at Virat Kohli's illustrious captaincy through the lens of the cricketing greats
16 Jan, 2022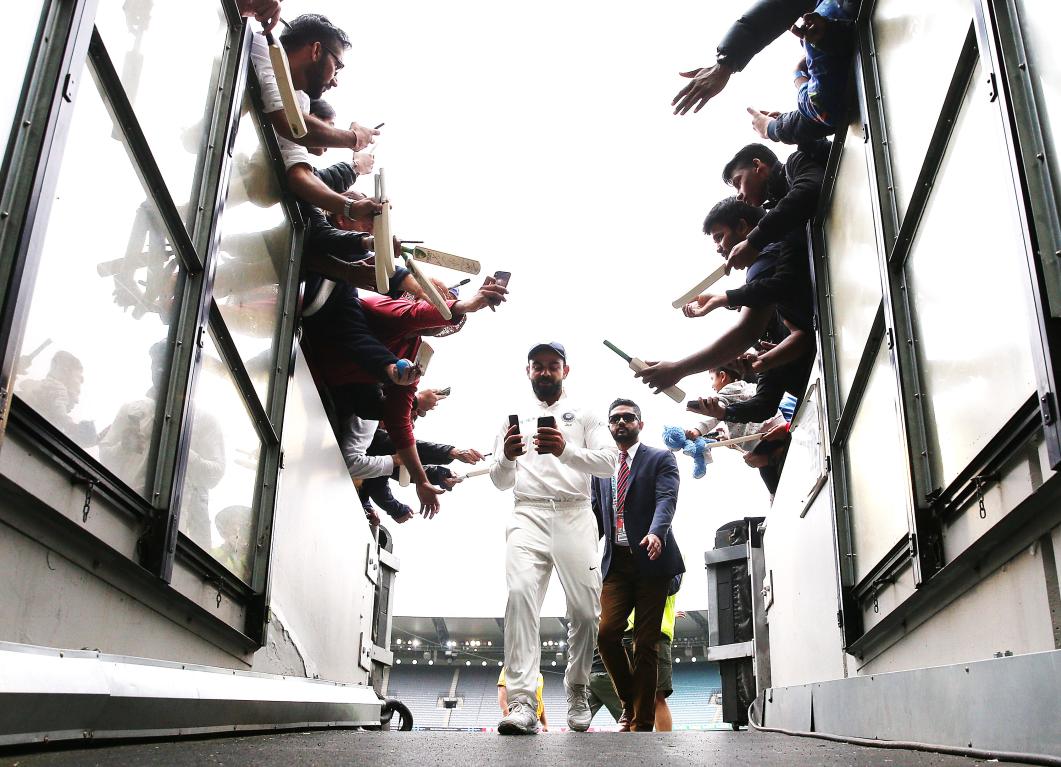 A glimpse at Virat Kohli's illustrious captaincy through the lens of the cricketing greats

It is needless to say that Virat Kohli served tirelessly to lead the Indian legion in Test cricket in the most promising direction. After 2011, India won back-to-back maces in the longest format of the sport for three long years that spanned from 2017 to 2019.
No matter, how bright a star burns, it must meet its end on one fine day. It may be a consuming supernova or it may even burn out with a whimper. But as Iron Man quoted in the Avengers: Endgame, "A part of the journey is the end" and so it came to pass.
After leading the Indian squadron for five long years, the Indian skipper called it a day as the Test captain of the nation. Back in November, he already stepped down from the captaincy in the shortest format of the game after the T20 World Cup.
However, a shocker followed when he was stripped from the ODI captaincy that spawned a boatload of controversy, consuming the entire nation itself. Things were just starting to stabilize when the world was in for the biggest and the most devastating shock.
On Saturday evening, Virat Kohli stepped down from the mantle with pride and his head held high. It was nothing short of a wondrous journey that starred 68 matches as the king of Indian cricket, out of which he wrung out 40 Test wins.
The numbers are simply too overwhelming to be ignored by anyone on the face of the planet as he surpassed the other Indian captains with consummate ease. He also finished his captaincy stint as the leading run-scorer in the Indian circuit while being the skipper and it came on the back of the highest number of centuries too.
He also became the man with 7 double centuries to top the charts as a captain throughout the world in the context of 200s. The nation was simply reeling in agony from the recent debacle in the hostile pastures of the Rainbow Nation and all of it was simply eclipsed in a flash by the towering farewell from the mantle by Virat Kohli.
Let us all dive into the ocean of accolades that the King racked up after his departure from the helm of affairs.
Former Indian Test opener, Wasim Jaffer said, "When Virat took over as Test captain, India winning a test overseas was an achievement, now if India loses an overseas test series it is an upset. And that's how far he has taken Indian cricket forward, and that will be his legacy. Congratulations on successful reign, Virat Kohli."
Former Indian ODI batter, Suresh Raina cited, "Although I also am shocked by Virat Kohli sudden decision, I respect his call. I can only applaud him for what he has done for world cricket & India. Easily one of the most aggressive and fittest players India has had. Hope he'd continue to shine for India as a player."
The West Indian icon, Sir Vivian Richards left a heartfelt tribute for the Indian captain as he penned, "Congratulations Virat Kohli on a stunning run as the Indian captain. You can be very proud of what you have achieved so far, and for sure, your name will be up there among the best leaders in world cricket."
Former Indian batter and Indian coach, Ravi Shastri quoted, "Virat, you can go with your head held high. Few have achieved what you have as captain. Definitely India's most aggressive and successful. Sad day for me personally as this is the team. we built together - @imVkohli."
Erstwhile Indian cricketer, Yuvraj quoted, "It's been a remarkable journey King Kohli @imVkohli! Very few have been able to achieve what you have. Gave your all and played like a true champion each time. May you grow from strength to strength! Onwards and upwards."
Former Indian opener, Virender Sehwag quoted, "Many Congratulations #ViratKohli on an outstanding career as India's Test Captain. Stats don't lie & he was not only the most successful Indian Test Captain but one of the most successful in the world. Can be very proud @imVkohli & looking forward to watching u dominate with the bat."
Renowned woman cricketer, Lisa Sthalekar quoted, "Wow…to say I am surprised I would be lying, however it will be strange not seeing Virat captaining. Though everyone's time must come to end, as they say. Thank you for driving the global game through your leadership especially in the Test arena."
The cricketing God, Sachin Tendulkar cited, "Congratulations on a successful stint as a captain, @imVkohli. You always gave 100% for the team and you always will. Wishing you all the very best for the future."
ICC too joined the party by and acknowledged, "Virat Kohli steps down as India's most successful Test captain."