Ashwin claimed a three-fer in the second innings to bring India back into the game
30 Nov, 2021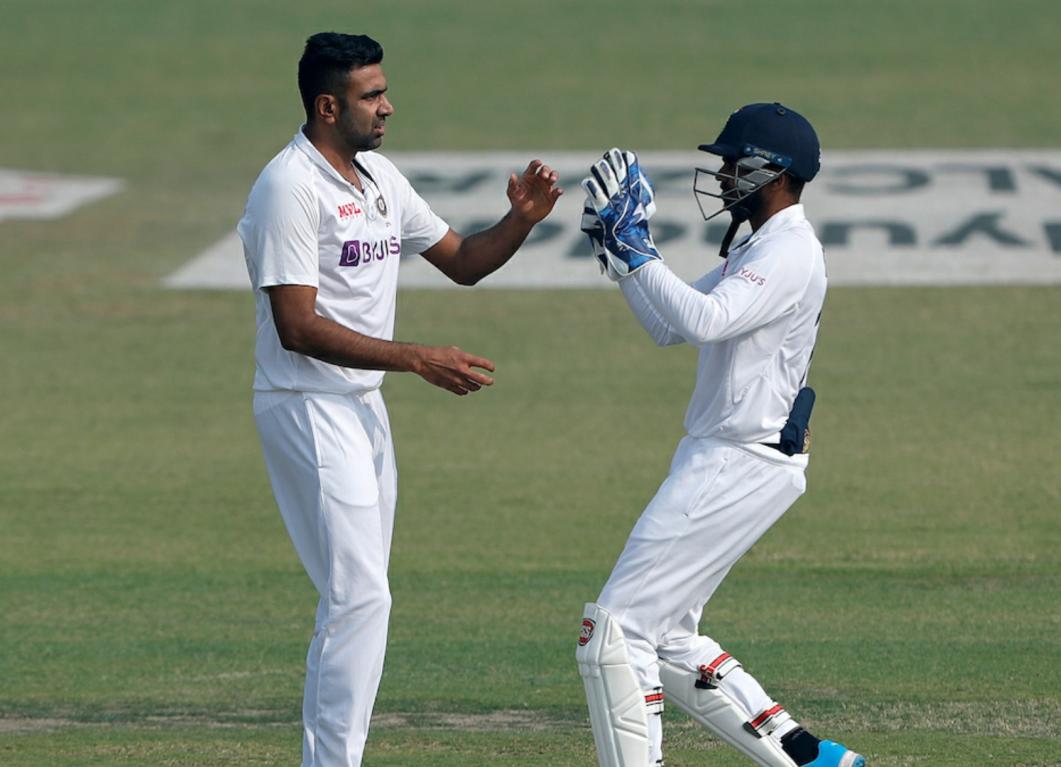 Ashwin claimed a three-fer in the second innings to bring India back into the game
As India and New Zealand shared the spoils of war after five days of intense and thrilling drama at Kanpur, a long-standing record in the glittering antiquity of Indian bowling was toppled as Ravichandran Ashwin surpassed Harbhajan Singh to become India's third-highest wicket-taker in Test cricket.
With 284 to defend, Ashwin delivered the opening blow for the Indians with a swivelling delivery that claimed Will Young who relished a ceremonious outing in the first innings. With this wicket, he also paralleled the long-standing record of Harbhajan Singh who finished his Test career with 417 wickets.
Harbhajan Singh's 417th victim was Jehan Mubarak as the off-spinner foxed him to hole out to Ajinkya Rahane. Ashwin didn't just stop at 417 scalps as he surged ahead of the Turbanator with two more wickets on the final day of the first Test.
Tom Latham's timbre flicked as Ashwin came up with a stellar delivery while Tom Blundell's guard was nowhere near to thwart Ashwin's burst before crashing onto his stumps.
Ravichandran Ashwin became the third-highest wicket-taker for India as he surpassed Harbhajan Singh and now is preceded only by the iconic World Cup-winning skipper, Kapil Dev and India's legendary leg-spinner, Anil Kumble in the chart for wickets.
Ravichandran Ashwin has come within close range of Kapil Dev as he is just 15 scalps adrift of Dev. However, the path to Kumble's numbers may seem to be a drastic far cry as the seasoned leggie claimed a whopping 619 Test wickets in his international career.
Comparisons can now rest in peace with the Indian off-spinner scaling new heights with every passing game. Even though Ashwin tried desperately to salvage that win for India but the final partnership between Rachin Ravindra and Ajaz Patel proved to be the ultimate thorn in India's flesh.