India script a resounding victory over Afghanistan
04 Nov, 2021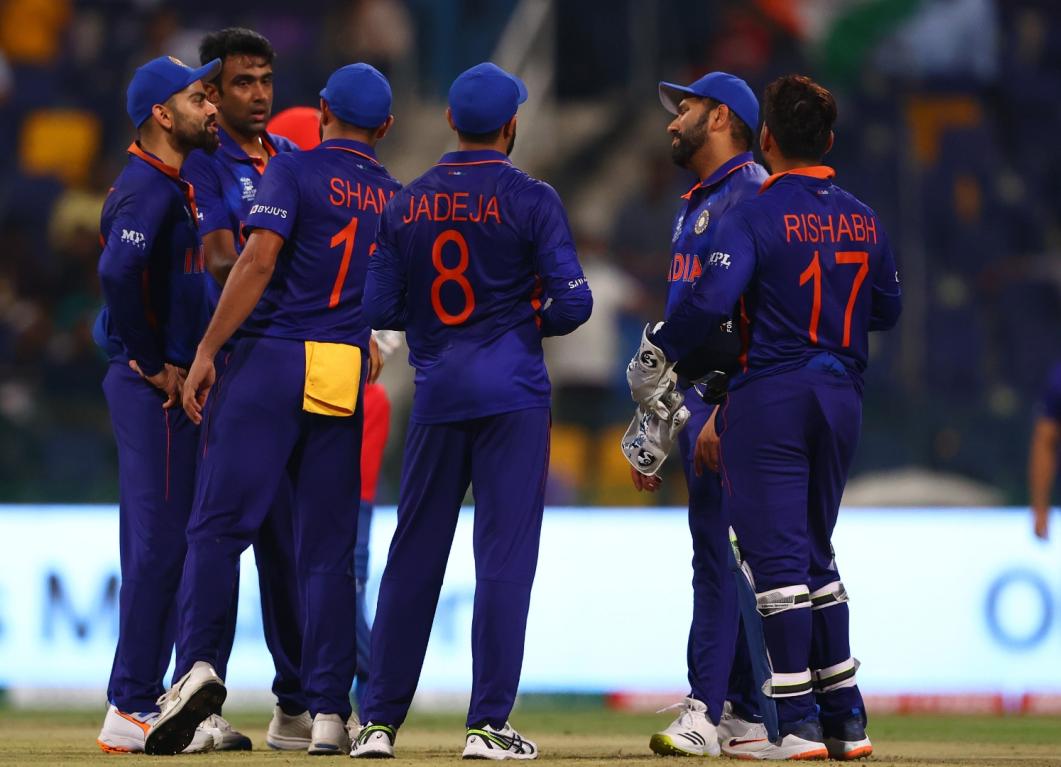 India script a resounding victory over Afghanistan
India registered their first win in the ongoing ICC T20 World Cup playing against Afghanistan, having put up a great show at Sheikh Zayed Stadium, Abu Dhabi. 
India made a couple of changes from the Indian team management in their last match squad bringing - Suryakumar Yadav & Ravichandran Ashwin replacing Ishan Kisan & Varun Chakravarthy.
Put to bat first, the Indian openers - Rohit Sharma & KL Rahul - took charge, bringing India's tally to 53 in the powerplay. The opening duo scored India's highest opening partnership (140 runs) in the ICC T20 World Cup. Rishabh Pant and Hardik Pandya bestowed their finishing skills, registering 65 runs in the last four overs. India notched a competitive 210-run total on the board in the first innings. The highest total in this edition of the ICC T20 World Cup.
Indian bowlers pounded over Afghan batters by taking wickets at regular intervals. Mohammed Shami took three wickets in his four overs slot while Ravichandran Ashwin took two wickets, his first since 2016. Ravindra Jadeja & Jasprit Bumrah took a wicket each. In the end, with a collective team effort from all three aspects of the game, India beat Afghanistan by 66 runs to give a glimmer of hope to book their spot in the semi-final.
India's vice-captain, Rohit Sharma was the player of the match for his 77 off 47, "We wanted to get off to a good start which didn't happen in the first two games. There was a conscious effort to lay a good platform for the other batters to express themselves later. A good start and a respectable total were very important from our side. We knew run rate could come into play and we wanted to win by a good margin, glad that we did that. Whatever the team requires, I'll try to do that. Today the need was for a quick start, normally I try to assess early on but today I had to play a bit differently", the Hitman stated. 
The opposition skipper, Mohammad Nabi, credited India's batting display, "We wanted to bat second because of the dew, and the wicket looked really good for batting. In the end, there wasn't that much dew, but India batted really well on this pitch and put our bowlers under pressure. We didn't rotate strike well in the middle, and we threw away our wickets and got under pressure."
Virat Kohli praised the opening partnership during the post-match presentation, "The top three is more or less set unless something like today happens, when the top two go on until over 14 or 15. We don't decide we're going all out. We back the guys because they're so skillful, and sometimes it comes off like today." 
"The return of Ash was a real positive, it was something he has worked really hard for. He showed this control and rhythm in the IPL as well. He's a wicket taker and a smart bowler as well", the Indian skipper added.
India plays their next fixture against Scotland on Friday keeping their hopes alive to finish in second place.