KS Bharat's last-ball six conjures memories of Arun Karthik's Houdini act in 2011
09 Oct, 2021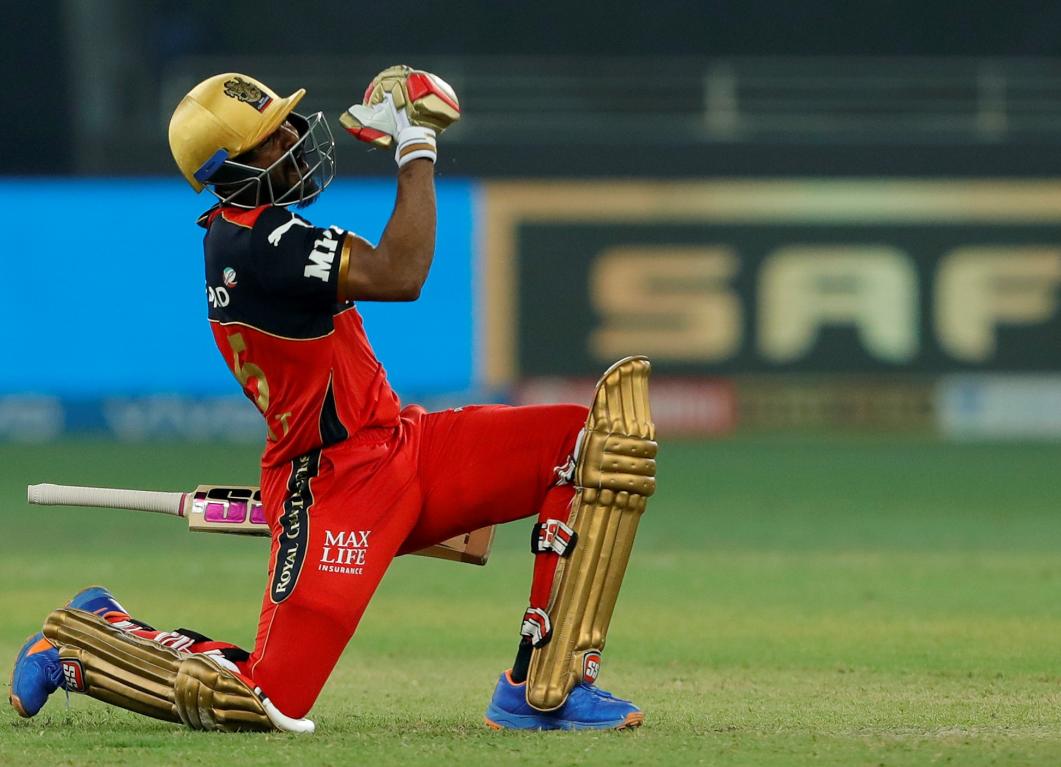 KS Bharat's last-ball six conjures memories of Arun Karthik's Houdini act in 2011
October. A wicketkeeper-batter hammering the final ball for a six to hand RCB an unforgettable victory. We've seen it all before, haven't we?
10 years ago, a keeper-batter from down south sent all the fans into a state of rupture, plundering a last-ball six against South Australia Redbacks to steer Royal Challengers Bangalore into the Champions League semi-final. 
A similar event unfolded on Friday. Another cult classic for the ages, this one served as a testament to KS Bharat's unwavering determination and hard work. The last-ball six against Delhi Capitals conjured up memories of Arun Karthik's Houdini act in 2011. 
We don't always see the last-ball six finishes like this. But when it happens, it sends all the cricket fanatics into a frenzy. The streets of Bengaluru will never forget the two lion-hearted efforts. 
After leading RCB to a historic 100th win in the final ball, an ecstatic Bharat asserted at the post-match presentation, "I don't believe in anything coming for free, so I work hard for it." - This, in itself, exemplifies how he has kept nose to the grindstone. His words encapsulate the enormous amount of effort he has put in over the years.
Walking in at 3, the 28-year-old demonstrated great grit and temperament. From playing the role of a second fiddle initially to stepping on the gas pedal in the death overs, he batted with immense control against a potent Delhi bowling attack. In the process, he notched up his maiden half-century of IPL. One notable aspect of his batting is his willingness to play situations rather than just his natural game. This approach is relatively rare in a player who has only played a few games in a highly competitive league like the Indian Premier League.
The Vizag-born cricketer, who was named Man of the Match for his brilliant knock, reflected on how he approached the innings, particularly after early dismissals of Virat Kohli and Devdutt Padikkal.
"It was great winning on the last ball. It was an incredible feeling to finish it off. Maxwell and I were communicating in the centre well. At any point, I wasn't nervous at all. Tried to stay in the present and was looking for the opportunity in the last ball after the wide. I work on my batting against spinners," Bharat said during the post-match presentation. 
The skipper too was in complete awe of Bharat's match-winning innings. "The way AB batted in the beginning and then with KS (Bharat) and Maxwell, in the end, was unbelievable. We knew KS was a guy who could come in at three at any stage," Kohli added. 
The action now shifts to Sharjah as Royal Challengers Bangalore go head-to-head against Kolkata Knight Riders in the Eliminator on Monday.