Trent Boult became a member of a very special club in the Test history of New Zealand
10 Jan, 2022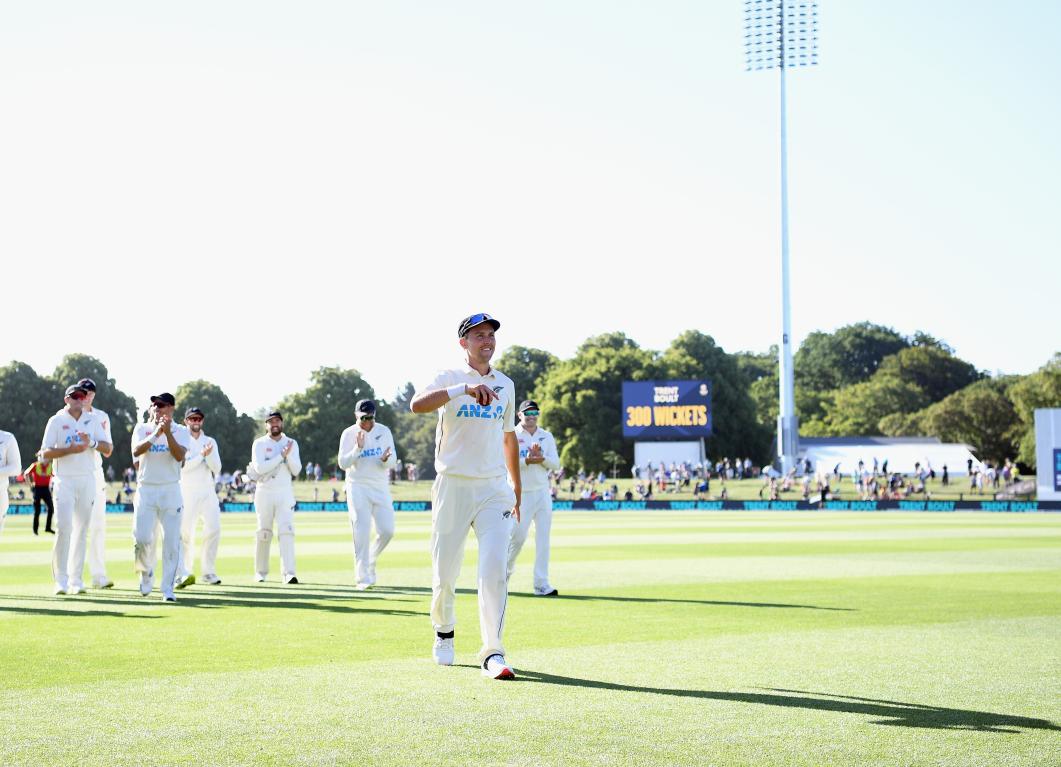 Trent Boult became a member of a very special club in the Test history of New Zealand
Trent Boult became a member of a very special club at Hagley Oval, as he put in a pompous display to derail the soaring visitors in the first innings. More importantly, Boult walked into this very special club in the presence of his parents.
The New Zealand fast bowler managed to claim his 300th Test wicket at Hagley Oval. To make this moment even more special, Boult managed to achieve this incredible feat in the presence of his chum, Tim Southee.
Boult joined an exclusive club of New Zealand bowlers to achieve this herculean feat alongside the illustrious likes of Daniel Vettori, Tim Southee and Sir Richard Hadlee. He finished the day with 301 wickets in his tally that also starred a phenomenal fifer. His dominion over the visitors was formidable enough to skittle out Bangladesh for a paltry 126.
Trent Boult quoted, "To join him [Southee] and Daniel and Sir Richard is very special. I think we met towards the end of under-17s cricket. I'm always learning off him, I think he has an incredible work ethic and his record speaks for itself. That comes from a lot of hard yards and his desire to be better every day. It's always a great feeling when both of us are taking wickets and really enjoying it."
Boult and Southee ripped apart the visitors to shreds with their mighty fine bowling that at one point in the time left Bangladesh reeling at 12 for the loss of 4. Boult summed up the factors that aided him in wreaking havoc against ailing Bangladesh.
He was heard quoting, "I am generally trying to pitch the ball up. Get a bit of movement in the air. The wicket offers a bit of bounce. It has a good grass covering. The wind is the big thing for us as a bowling unit. It is generally left to right. It suits me and Timmy nicely, and then [Neil] Wagner and KJ [Kyle Jamieson] come in behind to do the stuff they do."
He also added, "That's the beauty of Test cricket. The little subtleties that come with different grounds, winds. The wicket obviously offers a bit of bounce with grass on it. I thought the way the boys started, to get a couple of wickets early, not really letting up on the pressure, I suppose we did what we spoke about. It is simply to get them playing on the front foot, and bowl for each other at each end. Only half the job done but it was a satisfying afternoon."
New Zealand took a mammoth lead of 395 runs in the first innings and will most likely ask Bangladesh to follow on in hopes of levelling the series to pen a sublime goodbye note for Ross Taylor.